Everyday mantel, dust included
Well according to the calender it is officially fall, but here in Florida it's still 90 plus degrees and let's not even discuss the humidity lately. I don't have a fireplace or
mantel
to speak of, but I do have a lovely old piano that was saved from a co-workers of Mike's garage. Yes it was going to the curb the next day so of course I had to go get it. It needs work but I have plans for creating a bar from it one day. It is usually filled with family photos, collections and dust, but I thought it would make a great display for fall.

Simple Fall Colors
I don't really decorate for specific holidays but my favorite one has to be Thanksgiving. Yes I know it's not even Halloween yet but since they are practically playing Christmas music in the mall already I figured what the heck and created something for Turkey Day. So I made a serving tray( from
pallets
of course ) and added a few dried flower arrangements from dollar tree purchase into vases I had.

View From Front
Excuse the flash in picture but the
whole
wall behind this is mirrored. Yes its dated but we currently are in rental property so not much we can do about it. Supplies only cost me around $10 for flowers, rocks and twine.
A Little Halloween
This witch has been in the family a long time. She is a Smores hanging ornament and is just adorable. That's about all there is for Halloween. Maybe I need to work on that!! After It was completed I liked the way it came out. Simple, colorful and it will last throughout the next few months. The jar of shells is still there, but I live in Florida so its pretty much a given that they will be there always, no matter what the season.
Our Family Witch
Yes there are alot of things to be thankful for and one is certainly a good glass of red after a long day. I'll be posting more pictures of the "Thankful Tray" soon.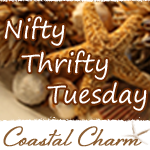 Linked To

Linked To